Apps
Engadget is my favorite technology news blog and while they do not support Windows Phone platform as whole heartedly (like they support Android), they do have a pretty amazing Windows Phone app. The download size is less than 1MB, but don't think it is skimpy on the feature part.
Fat You! is a fun Windows Phone app that lets you make the faces of normal, not-so-fat people fat. The app worked pretty good in our tests. You can import the picture from gallery and Facebook. You can even take a picture using camera and make his or her face fat right away.
A lot of ereaders are available for the Windows Phone platform. Believe me, I have tried them all and most, if not all, fail miserably in providing a decent reading experience to me. I own a Galaxy Note (an Android phone) and Nokia Lumia 710 (a fairly popular Windows Phone) and spend most of my reading eBooks on my Galaxy Note on the Aldiko app.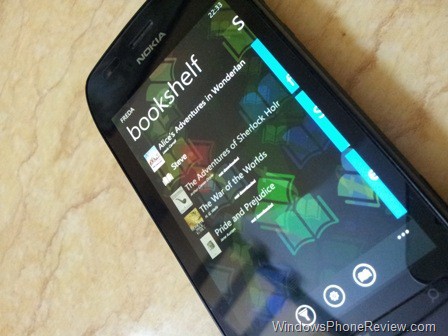 Aldiko is touted as the best reader app for Android but unfortunately it is not available for Windows Phone. However, we do have an app called Freda and believe me, it is amazing.
What is Freda? – It is an eReader for Windows Phone.
Trackables for Windows Phone lets you track everything that is trackable – from projects to how many cups of coffee or tea you had. You can define personal goals too – something like promising yourself that you will bring your weight down to a certain level. Possibilities with this app are endless. Read on this review to find more about it.
Google is not a huge fan or supporter of windows phone. In fact, they only have a half baked Google search app available at the windows phone marketplace that has not been updated since v1.0. I am personally a huge fan of Google Music and the search engine giant has shown no interest in porting it to WP7 platform. Fortunately, we have an excellent, active development community at XDA that have come up with an app called CloudMuzik.
Best things in life are free – and this quote applies for Windows Phone as well. There are plethora of amazing apps for kids that are either available for free or costs a dollar or two. Here is the list of some of those apps that we think should be there on your windows phone to keep them, especially during the times when you do not want to be disturbed.