Simple.TV Introduces Windows Phone 8 Support with New App and Custom Program Guide
Simple.TV has introduced Windows Phone 8 support to become the only cord-cutting solution to support the most popular mobile operating systems. The company has released a free app supporting Windows Phone 8 and 8.1, giving users the ability to access their whole-planet DVR. Users can watch live TV, schedule recordings of their favorite TV shows and browse upcoming shows and movies to find new content. With a 3G, 4G, LTE, or Wi-Fi connection, users will never have to wait to watch their favorite shows.
Simple.TV is the ideal companion for cord-cutters who want to save money on expensive cable subscriptions, but don't want to miss live TV for sports and network programming. Simple.TV users can enjoy all the benefits of an easy-to-use DVR complete with a rich electronic program guide. Simple.TV not only bridges the "cable gap" to offer live TV that can be recorded, but it is specifically designed and optimized for a seamless mobile experience.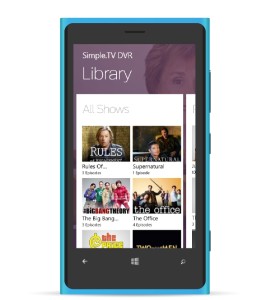 Complementing offerings from Netflix, Amazon and Hulu, Simple.TV offers a truly holistic ecosystem for live and streaming content. With dual-tuners, it has the ability to record two shows at once, while streaming up to five different recorded shows at the same time.
Related windows phone articles