Engadget is my favorite technology news blog and while they do not support Windows Phone platform as whole heartedly (like they support Android), they do have a pretty amazing Windows Phone app. The download size is less than 1MB, but don't think it is skimpy on the feature part.
Category :
Apps
| September 04, 2012 |
The Asphalt series from Gameloft has enjoyed pretty good success till now, especially on the iOS and Android platforms. Android and iOS users have been enjoying the latest Asphalt 7 with super high quality graphics and fluid gameplay but we windows phone users have been slapped with the Asphalt 5.
This version was released back in August 2010 (yes 2010!) and Gameloft has released it in Marketplace in 2012. The download size is 109MB which is at par with the sizes of NFS Underground and Need for Speed Hot Pursuit.
Category :
Games
| August 11, 2012 |
Fat You! is a fun Windows Phone app that lets you make the faces of normal, not-so-fat people fat. The app worked pretty good in our tests. You can import the picture from gallery and Facebook. You can even take a picture using camera and make his or her face fat right away.
Category :
Apps
| August 10, 2012 |
A lot of ereaders are available for the Windows Phone platform. Believe me, I have tried them all and most, if not all, fail miserably in providing a decent reading experience to me. I own a Galaxy Note (an Android phone) and Nokia Lumia 710 (a fairly popular Windows Phone) and spend most of my reading eBooks on my Galaxy Note on the Aldiko app.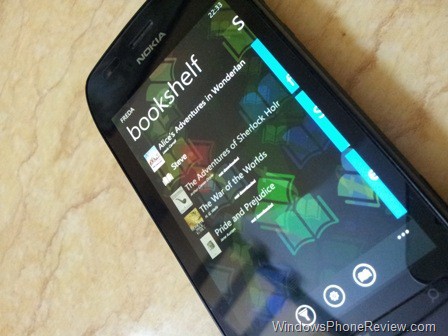 Aldiko is touted as the best reader app for Android but unfortunately it is not available for Windows Phone. However, we do have an app called Freda and believe me, it is amazing.
What is Freda? – It is an eReader for Windows Phone.
Annexation is a turn based strategy game for windows phone that can be played by 2 or more players (upto 4 supported). If you are alone, you can play with the AI, which can set as weak, strong or best. In the game, you try to take over the board by choosing colors to take over around you. In order to win, all you have to do is occupy more area of the board than your opponent.
Category :
Games
| July 11, 2012 |
Folks at FCC have posted some information about the Samsung's upcoming windows phone handset, the Omnia M. The information gives us a glimpse of its specs that suggest that it will come with a 4 inch Super AMOLED display, 1GHz processor, 3G and GSM radio. For some strange reason, LTE is not included in the specs.