Are you looking for a currency convertor for your Windows Phone?
Well here is the list of best currency convertors available for the WP platform (in no particular order). We have enlisted the ones that work and have easy to use UI.
1. XE Currency
Convert every world currency with XE Currency. With live currency rates and charts, it's simple and free!
Features:
– Every world currency & precious metals
– Live rates can refresh every minute
– Currency charts for analysis
– Calculate prices with the converter
– Simultaneously monitor up to 10 currencies
– Use it offline – it stores the last updated rates
– Set the update frequency and shake to reset
2. Best Currency Converter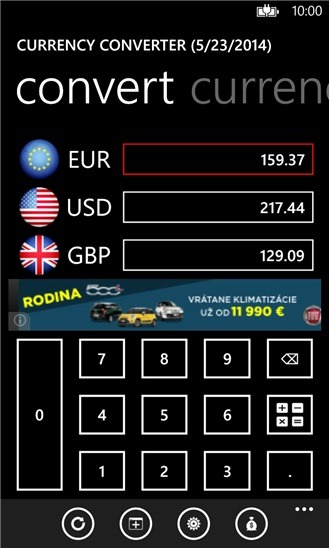 Self proclaimed "Best Currency Converter" for WP is a simple convertor that makes use of "convert as you write style". It is focused on ease of use as well as offline usage. Online update is provided via Yahoo finance. You can also manually add any kind of currency. World's widely used currencies have own flag build-in.
3. The official "Finance" app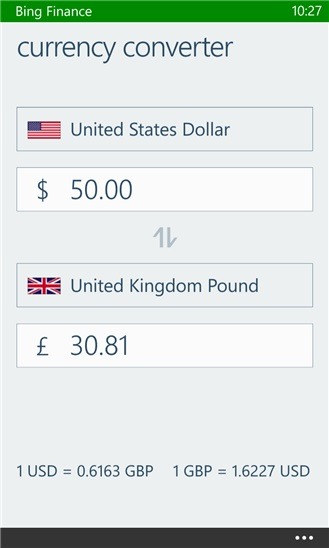 The Bing Finance app has a currency convertor as well. It is an exact clone of its desktop counterpart. Swipe through informative charts for a quick read of the day's events.
4. Calculator2

It comes with five calculators – Basic, Scientific, Programmer, Currency Converter, and Unit Converter. Here is its feature list:
* over 50 scientific functions
* 125 mathematical and physical constants
* statistical functions for memory values
* over 150 World currencies
* over 300 units for conversions across 26 categories
* searchable constants, currency, and units lists
* calculation history
* Undo function
* customisable Tax buttons
* customisable button layout
* Auto, Fixed point, Scientific, and Engineering display formats with choice of digit grouping
* enable or disable operator precedence
* copy/paste
* support for both light and dark themes, and use of the accent colour
* live tiles for each calculator showing the history or latest exchange rate
* 64, 32, 16 and 8 bit word lengths for the Programmer Calculator, including signed or unsigned integers
5. Currency Exchanger Free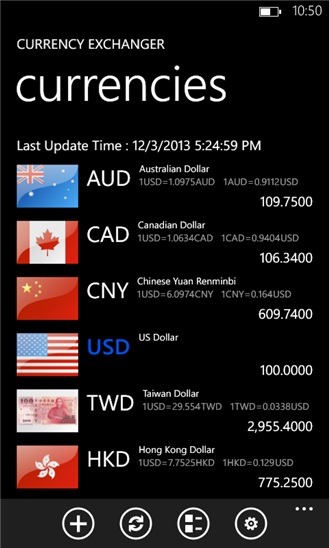 This app lets you convert more than 150 global currency exchange rates quickly and easily. Here is its feature list:
* Convert multiple currencies at the same time.
* Fix the common  currency conversion to the Live Tile, each of which supports up to four currencies conversion.
* Support update mode and digital display styles setting.
* View historical chart of exchange rates.
* Support English, Simplified Chinese, Traditional Chinese.
6. Currency Converter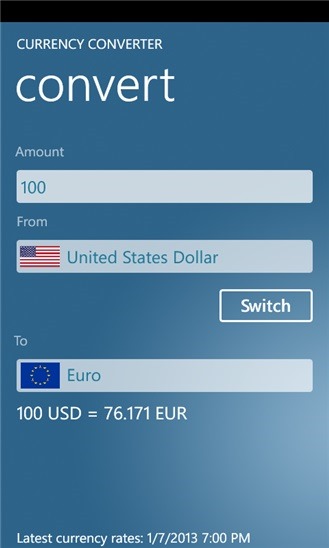 Another amazing currency converting app for windows phone. The app is very quick and handy