Databot is a very unique application for windows phone. It is a one of its kind talking robot that answers with its voice to requests made by user in the topic of their choice.
Apps and services integrated to modules in its memories give back at users images, research services and multimedia presentations. For instance, there is a free horoscope module that tells you future. There is a Joke and even an insult module which can used with friends.
We tested on a Lumia 1320 and it runs without hiccups. Smooth!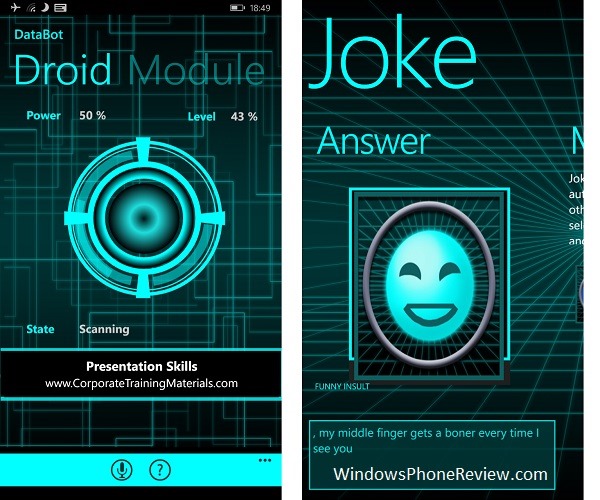 The application is totally free to download and there are several upgrades that can be bought as in-app purchases.
Here is a demo of the Databot.
Here is its feature list:
* Quickly identifies the subjects required
* Creates customized multimedia presentations using voice, text and images
* Answers to specific questions
* Creates  summarizing pages containing: your answer, related details, materials, search services, links.
* Allows you to easily share answers using SMS, Email and social networks.
* Enhances his abilities using free upgrades or purchased.
* Customizes itself according your preferences: language, voice, name, behavior.