Frim for windows phone is a social network and a messenger in one package. Frim can help people to find new friends or someone for chatting, or someone special, or reconnect with old friends. Frim can help to meet new interesting people in a city where users live or while they travel.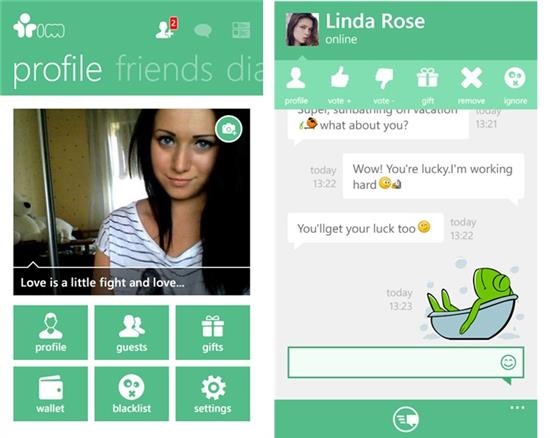 Frim features
MEET NEW FRIENDS ONLINE
Thousands of interesting people are online in your country and ready to chat and make friends with you. It is very easy and fast to meet new friends in Frim: just go online, fill your profile, specify your hobbies, upload a photo and be ready for new people to visit you.
Or be more active and use Megaphone – people all over your country will see your message and will want to chat with you or even make friends.
Also you can use Megaphone in other countries to meet friends outside your homeland, it is always interesting to know how people from other countries live, what they think about, what are their hobbies. And definitely you can use our powerful search to find new friends: just specify age, gender, country, city and hobbies – and here you are – a lot of interesting people online matching your parameters ready to chat. Simply send them a message or cute emoji – and you are already chatting!
MESSENGER FOR FRIENDS
Frim is not only about finding new friends, it is important for us in MoCo Media to give you all messenger possibilities to chat with your friends like in Whatsapp and Viber. So you can use a lot of our exclusive smileys and fun stickers, or simply emojis! And certainly you are free to share any photos with your friends.
FREE
You can find new friends absolutely for free, there are no subscriptions, no limits "VIP only", every member of Frim is always available to you.
DESKTOP APP
To find new friends and chat on your Windows PC, please visit http://fr.im and download Frim desktop app.
Free features
Add friends from your contact list
Send free messages (text, photo, emojis)
Look for new people using search engine
Look through users profiles, sending requests and messages
Different cute emojis
Paid features
Lovely and colorful presents
Megaphone that can help users to attract attention of other users around the world