HTC Arrive is reminiscent in many ways to the Evo Sprint. That, it is different in a lot of ways. The HTC Arrive has a 3.6 inch display packing 800 x 480 pixel display. It has same specs as other HTC windows phones available in the market. I would not waste time explaining how the Windows Phone looks. Instead, I will discuss what extra apps are bundled with the ARRIVE. Well, there are not many. The only extra app is the Sprint Zone which includes Sprint TV and Sprint Radio. And just like any other Windows Phones, it also has Xbox Live. Let us take a tour of the phone. On the lower right corner, you will find a dedicated camera shutter button. On the top, you will find a 3.5mm headphone jack and on/off button. On the left side, you will find the volume rocker switch and a micro USB port that is used for both syncing and charging.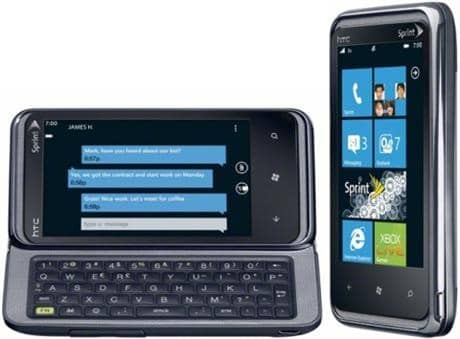 Just like the HTC 7 Pro, it has a slide out keyboard that also sits up like a notebook. The screen is angled upward at you. Sure, there are other phones out there that also has tilt-up keyboard. It has a 1GHz processor, 5 mega pixel camera that can shoot 720p HD video. Right next to camera, you will find the speaker and LED flash to shoot in low light conditions. To get to the battery cover, you will need to slide open the keyboard and then remove the back panel. I shot some still images and I could focus from 2-inches away. There were almost no noise which is something nice to know. In other words, it is at par with the HTC Mozart (and it is a nice thing to know).
It does not have removable storage but it does have 16GB of built in storage and 25GB of cloud storage. Battery will easily last you 2 days thanks to the massive 1500mAh battery. It comes with latest version of Windows Phone  which includes copy-paste capabilities. To test it, I created a sample word document, and wrote something in it. Now to copy the text, I just need to double tap and drag across the sentence. A little icon will pop up; just click on that and the text will be copied to the memory. Now, to paste the text, open an area where the text can be inputted so that the keyboard will pop up with a paste icon just on top of it. Just tap it to save it.
Pros:
Looks attractive
Amazing display (as the pixels are tightly packed into a 3.6-inch display instead of the usual 4.3 inch display)
Good performance
Very comfortable keyboard (loved the huge enter and space key)
Cons: